Networking
Networks are an essential part of a modern business, increasing efficiency by providing quick and easy methods of finding and sharing information.
Cadnet can help you develop your network to make a real difference in your companys performance.
Cadnet can provide you with the highest levels of technical expertise, strategic thinking and hands on skills.
microsoft certified partner
Choice is important, but so is the right advice
With a Microsoft Partner you get the best of both worlds. As well as being able to choose the software package that's right for your business, there are plenty of experts who can explain the best options for your business and then help you select the best one.
Microsoft Partners include small and medium business specialists, who can quickly assess your business goals and identify the package that matches your needs.
Why work with a Microsoft Partner?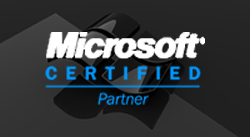 A Microsoft Partner has expertise and business focus in the marketplace, but also has an enhanced ability to better serve customers like you. Whether it's by standardising or advancing your IT infrastructure, or helping you realise more business value from your IT investments, Microsoft competency partners really can help your business reach its fullest potential.
Why working with a Microsoft partner matter:
Trusted Experts.
They have proven their expertise through rigorous exams and successful customer implementations.
Innovative Technology.
They are IT experts certified in the latest technologies and solutions.
Supported by Microsoft.
They are in the top 5% of our partners worldwide. Added to this is their access to Microsoft technical support and product teams to help them deliver the solutions your technology challenges demand.